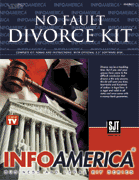 Before you check out any other "divorce kits," remember that our's is:

* 100% Guaranteed to work or your money back!

* Comes with "800" tech-support phone number.

* The first and original "Divorce Kit" - published since 1985!

* Ships FAST, you'll have it a few days.

* Includes CD-ROM software AND preprinted forms!
This is the only guaranteed divorce kit! Filled out properly the court in your area will accept these forms or your money back! SJT will also refund up to half of any court fees you have incurred up to that time!
Divorce can be a troubling time. But if you and your spouse have come to the difficult conclusion that divorce is the only answer, this kit will save you time, heartache and hundreds of dollars in legal fees. It is legal and valid in all states and even comes with a money-back guarantee. Complete Kit $34.95
What does this kit contain?
A no-fault divorce is just as it sounds - neither party is at fault. Some states call a no-fault divorce a "dissolution." It simply states that there are "irreconcilable differences" between the two and they wish to terminate the marriage. This kit includes all the legal "fill-in-the-blank" forms you'll need to file with the court in your area. It provides easy to understand step-by-step instructions, and is valid in all 50 states and Washington, D.C.
The following details will be covered:
* personal property and real estate * child custody, support and visitation * alimony * debts and other obligations * change to former name for the wife * income taxes * and other important issues.
Both parties must agree entirely on the above listed details or this kit will not work for you. Legal advice is recommended if you cannot agree on all aspects of ending the marriage. If you and your spouse can agree entirely on the following few items, you are a candidate for this kit: 1) You must meet residency requirements for your state. In most states, that is 6 to 12 months. The residency requirements for all states and Washington, D.C. are listed in this kit; 2) Both of you must agree on all aspects of ending your marriage; 3) The wife must not be pregnant; 4) You must know the whereabouts of your spouse. He/she will need to sign the documents later. He/she will not need to appear in court, however, the person filing will; 5) You must be aware that there will be court fees you'll pay directly to the court when you file. The fees vary in each state but will probably range from approximately $50 to $400 depending on where you live. You can find out by contacting your county clerk's office.
If you can agree on these items, it's possible to save yourself hundreds (perhaps thousands) of dollars in legal fees. If you cannot agree, we suggest you seek legal advice.
How current is this publication?
Many states change their divorce laws and requirements several times a year. That's why we update this kit on a monthly basis if needed. Other publishers update theirs once every 1 to 3 years. We are also the only publisher to offer you a money-back guarantee that our kit will truly work for you. We feel our kit is the best available - it's the easiest, most up-to-date and guaranteed. What more could you ask for?
Complete Kit: preprinted forms & instructions with optional CD software.
Also included is a FREE bonus! You will receive our 600 BUSINESS & LEGAL FORMS software, a $17.95 retail value, FREE with your order! Don't wait, order today!