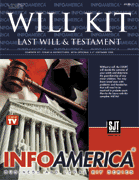 Did you know that without a will, the COURT will decide the outcome of your estate and determine the guardianship of any minor children? You may leave loved ones with problems and headaches that will need to be resolved in probate court. Plan for the future with the InfoAmerica Will Kit.
What Does This Kit Contain?
This Do-it-Yourself Will Kit contains all the legal documents you need to successfully prepare your own Last Will & Testament. You will not need (nor have the expense of) an attorney.
The kit has been written by legal experts. It is designed to be used by any person in any state to successfully prepare their own will.
This Complete Package Contains Everything you Need to Prepare Your Own Will:
This kit includes seven different will forms to cover any situation. Whether you are single, married, widowed, with or without children, this kit will suit your needs. (If you are married, you only need one kit.) Simply follow the instructions, and you can have your Last Will & Testament prepared in a matter of 30 minutes or so. It's that easy!
This Kit Allows You to:
* Set up a trust fund for children.
* Decide who will be the guardian of any minor children.
* Leave assets to your surviving spouse or any other beneficiary you choose.
* Toll-Free Help Line. Available with the kit is a Toll-Free Help Line from Monday thru Friday, 9 a.m. to 5 p.m. EST. While we cannot give you legal advise, we can help you with questions about the kit.