If you have a computer at home or office, this package is a necessity -- more than 600 common and hard-to-find business and legal forms! All can be accessed using virtually any word processing program for DOS or Windows. Great for attorneys, paralegals, law students, educators, small business owners, anyone!THIS TITLE FREE WITH ANY KIT PURCHASE!
Kit comes on a CD.
Complete Kit $17.95
WHAT DOES THIS KIT CONTAIN?
This is the most incredible collection of business and legal forms ever compiled on a CD! All forms can be accessed using any word processing program: Word, Works, NotePad, Word Perfect, etc.
When you find the form you wish to use, simply open the file, then "fill-in-the-blanks." You can edit the forms in any way you wish, and you can even mix 'n match forms if you wish, change font style or size, then print. For Windows or DOS, any IBM or compatible computer.
Very easy to use!
THIS INCREDIBLE PACKAGE CONTAINS MORE THAN 600 BUSINESS & LEGAL FORMS:
* Acceptance Letters * Acknowledgment Letters* Affidavits * Agreements * Announcement Letters * Assignment Letters * Bill of Sale Forms * Certificates * Corporate Forms * Collection Letters * Congratulation Letters * Contracts * Credit Applications * Demand for Payment Letters * Credit Forms * Employee/Employer Forms * Eviction Forms * Guarantees * Irrevocable Trusts * Lease Forms * Living Will Forms * Notice Forms * Power of Attorney Forms * Promissory Notes * Promotional Letters * Proxy Forms * Receipts * Real Estate Broker's Agreement * Real Estate Purchase Agreements * Release Forms * Revocable Trust Forms * Request For Information * Small Business Forms * Termination Letters * Thank You Letters * Trust Forms * Warning Notices * Will Forms and hundreds more! Complete instructions included.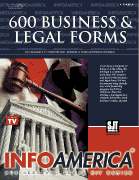 Tool Free Help Line:
1-800-326-7419
A toll-free help line is available Monday through Friday 9 a.m. to 5 p.m. EST. A staff member would be happy to help you with any questions you may have about the kit.